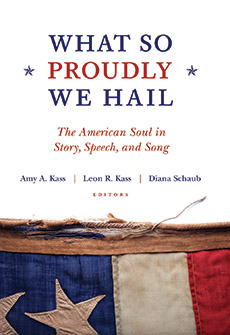 What So Proudly We Hail
Amy A. Kass, Leon R. Kass, & Diana Schaub, eds.
| 2011
Created by distinguished teacher-scholars Amy Kass and Leon Kass, the What So Proudly We Hail literary-based e-curriculum is a rich source of materials compiled to aid in the classroom instruction of American history, civics, social studies, and language arts. This collection of classic American stories, speeches, and songs is based on the Kasses' critically acclaimed anthology of the same name. It seeks to educate both hearts and minds about American ideals, American identity and national character, and the virtues and aspirations of our civic life.
Through video discussions and in-depth study guides, What So Proudly We Hail seeks to recreate the experience of a seminar classroom. Listen and learn as the Kasses discuss some of the greatest works of American literature with noted commentators David Brooks (on Mark Twain) and Yuval Levin (on Nathaniel Hawthorne) and scholars Eliot Cohen (on Michael Shaara) and Wilfred McClay (on Herman Melville), among others. These 45-minute conversations help to illuminate and clarify the questions raised in the anthology—augmenting a general education or refreshing an education now forgotten.
What So Proudly We Hail is also ideal for reading and discussion groups. Each text is introduced with observations and questions to promote more active reading and to help direct deeper conversations. Our discussion guides include useful background materials as well as a series of thematically arranged questions for thinking about the story and for thinking with the story about larger American themes.
View More