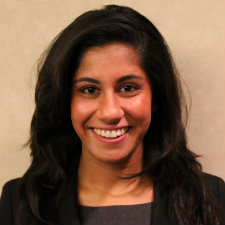 Harleen Gambhir
Current Position:

Judicial Law Clerk, U.S. Court of Appeals

Past:

Nonresident Counterterrorism Fellow at Institute for the Study of War, Department of State, Obama for America

Education:

Harvard Law School, Harvard University
Harvard graduate Harleen Gambhir enjoyed her time with the 2013 Hertog War Studies Program so much, she deferred her master's program at Oxford University. Encouraged by program instructors Fred and Kim Kagan, Harleen decided to spend a year at the Institute for the Study of War to research ISIS and jihadist groups worldwide. She graduated from Harvard Law School, and continues as a Nonresident Counterterrorism Fellow at ISW.
HOW DID YOU FIRST HEAR ABOUT THE HERTOG FOUNDATION? WHY DID YOU DECIDE TO APPLY?

I was a junior at Harvard and took a course with Graham Allison and David Sanger on U.S. national security decision-making and the press. I believe that Drs. Fred and Kimberly Kagan are friends with Dr. Allison, and he asked a small group of us if we were interested.

I had studied foreign policy and the diplomatic side before and felt very comfortable with those facets, but I never really understood military strategy. War Studies seemed like a great way to fill that gap. When I did the interview for the program, Dr. Fred Kagan asked me why they should take me. My response was, "I'm exactly the kind of student you're looking for—I know nothing about this! I know about the diplomatic and foreign policy aspects, but I don't know about the military side, and I want to learn."

TALK A LITTLE BIT ABOUT YOUR CAREER PATH. HOW DOES HERTOG FIT IN TO YOUR PROFESSIONAL GOALS?

My story is a little bit unorthodox. When I did War Studies, I became close with ISW Research Director Jessica Lewis, who was in charge of the Al-Qaeda in Iraq (now ISIS) portfolio. I helped her with a project she was working on about car bombs in Baghdad and around Iraq.

I came on as a summer intern at ISW with the help of Hertog Foundation funding. I interned directly under Jessica on the counterterrorism team. I hadn't planned to spend the majority of the summer focused on ISIS, but three days into the internship, ISIS started its urban offensive in Iraq and went into Mosul. Obviously, the entire office went into hyper drive. It was an amazing experience. Both being able to engage with the material and be a part of a really dynamic team was incredibly important and worthwhile.

Over the course of the summer, I started thinking about possibly trying to defer Oxford. Somehow everything managed to work out! As a Counterterrorism Analyst at ISW, I get to help out with ISW's technology partnerships, which fits in very well with what I want to do in the long term. I'm extremely grateful to the Hertog Foundation for creating the space for these relationships and networks to grow for me.

WHAT STICKS OUT IN YOUR MEMORY ABOUT YOUR EDUCATIONAL EXPERIENCE WITH WAR STUDIES?

The main thing I was struck by was the caliber of the students who were taking part in the program. Every single person was incredibly brilliant and interesting in their own way. I learned more in those two weeks than I did in some semester-long courses. It was one of the most intense experiences I've ever had, but also exceedingly enjoyable because of people who were there.

OVERALL, WHAT IS YOUR IMPRESSION OF WAR STUDIES?

I loved that even though the program was obviously based in military studies, it was military studies coming from three people with academic backgrounds. The Drs. Kagan had taught at West Point, and General Dubik was completing his Ph.D. while teaching the program and had a philosophy background.

So for me coming from a social science background, they were the ideal people to be bridging that gap. I just remember reading Clausewitz's On War and having them explain it to me. I was completely blown away by this material that I wouldn't have picked up had I not taken the course.

DO YOU THINK WAR STUDIES IS BENEFICIAL FOR YOUNG PEOPLE INTERESTED IN PUBLIC SERVICE?

The War Studies Program is definitely beneficial for young people interested in public service. The underlying philosophy of the Program is that civilian leaders can't make informed national security decisions without an understanding of the fundamentals of war—and that's absolutely true. War Studies offers a type of education that normally isn't available to public service-minded civilian students.

WHERE DO YOU SEE YOURSELF IN 10 YEARS?

I absolutely see myself working in public service, and public policy if possible. I would love to keep working in the national security space, hopefully doing something intelligence analysis related. I hesitate to limit myself to a certain region because you never know where life's going to go, but ideally I'll be working in the public sphere addressing some of the most complex national security problems we face as a nation.