Gulliver's Travels by Jonathan Swift (1726) is an adventure story, political satire, and philosophical treatise. Lemuel Gulliver's voyages may take him to fantastical lands filled with fantastical peoples, but Swift's subject, always, is human nature – what is best for man, and how should he live? Through Gulliver's explorations of four very different societies, Swift engages in age-old philosophical arguments – particularly the quarrel between "the ancients and moderns." But rather than provide a simple resolution of the quarrel, Gulliver's Travels sets out the terms, stakes, and significance of that debate.
This seminar will meet online weekly on Mondays from 6 to 8 PM ET. All course materials will be provided. Fellows will receive a $200 stipend contingent upon participation in the course and completion of a brief response paper and evaluation.
Image: Sawrey Gilpin, Gulliver Taking His Final Leave of the Land of the Houyhnhnms, 1789.
Ryan Hanley on teaching Gulliver's Travels
Faculty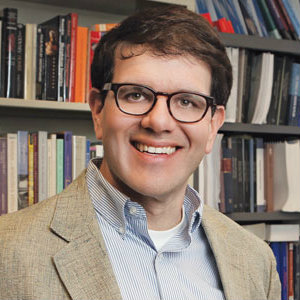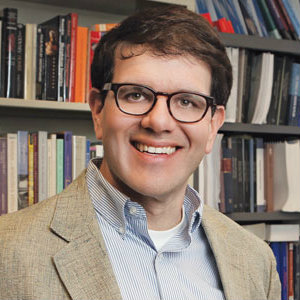 Ryan P. Hanley
Ryan Patrick Hanley is Professor of Political Science at Boston College. Previously, he was the Mellon Distinguished Professor of Political Science at Marquette University. His research in the history of political philosophy focuses on the Enlightenment.
He is the author of Our Great Purpose: Adam Smith on Living a Better Life (Princeton University Press, 2019), Love's Enlightenment: Rethinking Charity in Modernity (Cambridge University Press, 2016), and Adam Smith and the Character of Virtue (Cambridge University Press, 2009). His edited volumes include Adam Smith: His Life, Thought, and Legacy (Princeton University Press, 2016), the Penguin Classics edition of Adam Smith's Theory of Moral Sentiments (Penguin, 2010), and with Darrin M. McMahon, The Enlightenment: Critical Concepts in History, 5 vols. (Routledge, 2010).
His articles have appeared or are forthcoming in American Political Science Review, American Journal of Political Science, Journal of Politics, European Journal of Political Theory, Review of Politics, Social Philosophy & Policy, History of Political Thought, Journal of the History of Philosophy, Revue internationale de philosophie, and Archiv für Geschichte der Philosophie.
Professor Hanley received his B.A. from the University of Pennsylvania, his M.Phil. from Cambridge University, and his Ph.D. from the Committee on Social Thought at the University of Chicago. Prior to Marquette, he was a Mellon Postdoctoral Fellow at Yale University's Whitney Humanities Center.
Download the Full Syllabus
Preview the Syllabus by Week/Session