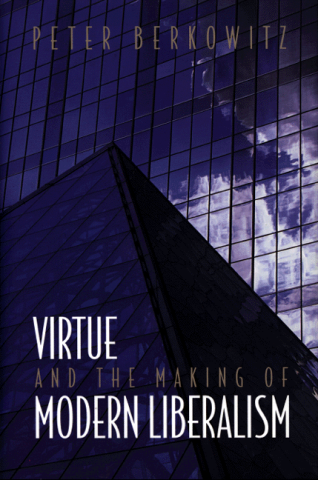 Virtue and the Making of Modern Liberalism
Peter Berkowitz
Princeton University Press | 2000
Virtue has been rediscovered in the United States as a subject of public debate and of philosophical inquiry. Politicians from both parties, leading intellectuals, and concerned citizens from diverse backgrounds are addressing questions about the content of our character. William Bennett's moral guide for children, A Book of Virtues, was a national bestseller. Yet many continue to associate virtue with a prudish, Victorian morality or with crude attempts by government to legislate morals. Peter Berkowitz clarifies the fundamental issues, arguing that a certain ambivalence toward virtue reflects the liberal spirit at its best. Drawing on recent scholarship as well as classical political philosophy, he makes his case with penetrating analyses of four central figures in the making of modern liberalism: Hobbes, Locke, Kant, and Mill.
These thinkers are usually understood to have neglected or disparaged virtue. Yet Berkowitz shows that they all believed that government resting on the fundamental premise of liberalism–the natural freedom and equality of all human beings–could not work unless citizens and officeholders possess particular qualities of mind and character. These virtues, which include reflective judgment, sympathetic imagination, self-restraint, the ability to cooperate, and toleration do not arise spontaneously but must be cultivated. Berkowitz explores the various strategies the thinkers employ as they seek to give virtue its due while respecting individual liberty. Liberals, he argues, must combine energy and forbearance, finding public and private ways to support such nongovernmental institutions as the family and voluntary associations. For these institutions, the liberal tradition powerfully suggests, play an indispensable role not only in forming the virtues on which liberal democracy depends but in overcoming the vices that it tends to engender.
Clearly written and vigorously argued, this is a provocative work of political theory that speaks directly to complex issues at the heart of contemporary philosophy and public discussion.
Image: "The Tennis Court Oath, Jacques-Louis David, 1790-94″ by Damian Entwistle | Flickr, CC BY-NC 2.0
View More