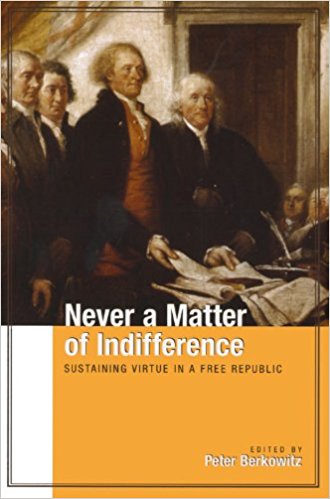 Never a Matter of Indifference: Sustaining Virtue in a Free Republic
Peter Berkowitz
Public policy both directly and indirectly affects the virtues that citizens exercise and the values they hold dear. In this first book generated by the Hoover Institution's Initiative on American Individualism and Values, the contributors reveal how, over the last several decades, public policy in the United States has weakened the institutions of civil society, institutions that play a critical role in forming and sustaining the qualities of mind and character crucial to democratic self-government. They attempt to show what can be done, consistent with the principles of a free society, to establish a healthier relationship between public policy and character.
A diverse group authors examine the teachings of America's founding liberalism about liberty and virtue and then analyze the critical transformation of American liberalism, for good and for bad, fostered by the cultural upheavals of the 1960s. They discuss public policy implications, exploring the effect of post-1960s public policy on civic associations, on public schooling, and on marriage and the family as well as the effect of these transformed institutions on our virtues and our values. The author show, for instance, how public schools have come to have a negative influence on students. virtues and values, and why neither public nor private schools can replace or compensate for the education of character that takes place outside school, particularly in the family. They reveal why marriage and the family today run contrary to our natures and thus are in a state of disarray, and how specific public policies can strengthen marriage. And they look at the impact of civic associations on our virtues and values and why the government must resist conscripting them and find a way to preserve their independence.
Although no individual author agrees with every observation and every assertion in every essay, they are united in believing that the defense of liberty in our day requires a rethinking of the complex relation between a citizen's character, civil society, and government.
View More